To Cowork or Not to Cowork
I was a champion of remote working and work-from-home life but now I'm a full convert to the coworking office and I'll tell you why.
Office life is not conducive to deep work. It doesn't favour introverts or anyone who needs peace to do their job. In fact, only 6% of people work best in an office environment! I thrive in silence and got so irritable at noise disrupting me from my work that I did a LinkedIn poll out of personal curiosity. Out of over 1,000 people nearly HALF also like working in silence: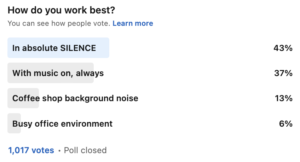 If so few people can thrive in the most common workplace scenario, why do most companies still operate in busy office environments? I'll explore both and how I found the optimal working scenario as a freelancer and agency owner and answer the debate you may be having: should I get a coworking membership?
Working from home:
I spent a whole lot of money and even more time converting a spare room into a creative workspace – complete with company plaque that was a startup gift. I literally spent eight hours hand painting the back wall and went round so many art fairs to craft the perfect zoom background. I believed it showed I was super fun yet creative and definitely a great social media manager. It is my favourite room in the house.
Now, I appreciate my privilege to have the house space to create a dedicated working area but being able to shut that door at the end of the day made all the difference from working at the kitchen table. However, after a few months I got lonely as hell. My partner would come home and be accosted with questions and problems and debates I'd been having internally all day.
So I went dog shopping at the RSPCA and came out with a dying cat I felt sorry for and she quickly became the love of my life. Goldie and I worked from home for 18 months. I started getting quite depressed, tired, irritable, brain fogged and felt constantly ill and had a cold. I even saw a therapist until it transpired I was allergic to the cat and suddenly felt better taking antihistamines and buying some air filters.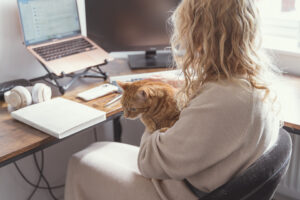 However, I soon felt isolated, started snacking or procrastinating on housework and ran out of ideas and the last thing my boyfriend wanted to do was check over my email campaigns before they went to 80,000 people. Work and home lines blurred and I was taking the laptop to bed with me or going straight from waking up at 5am to the office and not leaving until 5pm.
In desperate need to get out the house I started visiting coffee shops when they re-opened and quickly started racking up £20 daily bills in lattes alone to justify table hogging. I needed something longer-term.
The office:
I then started working with a client who required me to be in-house a couple days a week and it was great to get out. The constant chatter, endless (and pointless) meetings and micromanagement meant I could hardly even get on with what I was contracted to do in those two days and soon ended up working late nights to cover for the loss of productivity the time in the office brought me.
The compromise:
I joined a co-working space with the view to just going a few times a week but my 15 minute cycle commute or 45 minute walk in the summer was so delightful I started going every day. I made friends, clients and built a 'team' here. We do Friday lunch club, the office staff run socials and every penny I pay in membership I earn back through meeting clients or picking up work from other companies in the office space!
When it got busier and noisier I move to the dedicated desk area (that does indeed look like a driving theory test centre but means I can double-screen it, avoid back problems and idle chit-chat. I'm surrounded by others if I need a hand or a second pair of eyes or just someone to go get lunch or a pint with.
Pros of coworking:
Networking, I've been able to grow so much quicker around other startups that need my marketing help!
Social interactions, only when desired but there's always someone wandering around up for a natter.
Corporate business address rather than your home.
Closer to amenities, for me that means being two minutes from a gym, yoga classes and shops.
Chance to use the commute as exercise, being exactly 5k from home I walk run and bike every day.
Separate work from home, locking my laptop and work phone in a drawer means I'm not working late nights or weekends anymore.
Relationship saving, working and living together made me start to resent my boyfriend as he's always on the phone and who knew he was a 'let's circle back' kind of guy? Not spending every second of every day together means we can enjoy the time we do spend together so much more.
You've got a place to host meetings, events and training days. I love inviting clients in or prospective customers!
Cons of coworking:
Cost (I paid £125/month co-working and £225/month ex VAT for the dedicated desk).
Commute, if you're quite far you'll have bus, parking or train fayre to consider.
Noise, it's not completely silent and I am sat here writing this with both ear plugs and soundproof headphones on for utter serenity.
I have to go out to the shop and pay for snacks rather than having a full fridge.
Not socially acceptable to turn up and work in PJ's or wearing a duvet.
Less washing gets done.
You WILL spend so much more on coffees, eating out, after work drinks, networking events and ordering in.
Less time with the cat but she's at home with Joe all day anyway.
I've found having a city centre coworking space with a bike park, showers and growing young community of entrepreneurs has saved my business, mental health, relationship. I also now have calves of steel from the cycling. If you're thinking about it I cannot recommend you do enough. Make sure it's the right environment for you, in a location beneficial to where your customers are. For me, a swanky space makes me feel really cool too.
What's your coworking experience?