Freelancing: Pros and Cons
Freelancing has taken OFF! Almost 2.2 million freelancers now work in the UK.
More and more people are seeing the benefits of becoming their own boss and working flexibly, to their strengths. Companies are also benefiting from the insane growth in the amount of freelancers, contracting and outsourcing over hiring employees, saving costs and admin.
There are, however, many factors overlooked when becoming and hiring a freelancer, each of which I'm about to cover. When registering as self employed, you become a business owner and have many more responsibilities as such.
Let's start with the Pros of becoming a freelancer:
Your services should include the things you're good at and enjoy! I love content and strategy creation so that's what I do. No more Google Ads campaigns – I simply don't offer it because I think they're tedious as heck.
Be selective with who you work with: 
You can follow your passions and work with companies you really give a crap about and not just because your manager put you on that account. Working with clients I actually like and want to do well and the mutual respect is there is wonderful.
The big one, you can set your own hours working however, whenever or wherever you want if you set your contracts right and don't end up being an outsourced employee.
You can outsource your admin, reporting, finance, seo and scheduling if you just plain suck at it or it's beyond your skillset. I don't offer Google ads, graphics or PR but I have a full network who do!
Avoid office politics (mostly): 
Unfortunately big companies often come with cliques and dramas between staff that you can now be immune to as a contractor.
You control everything from your working routine to your brand, values and how you present yourself and your company.
No more waiting around for a promotion, if you take additional courses and find efficiencies, you can increase your own rates as you increase the value you can give to clients.
GREAT for intro/ambiverts:
A bustling office environment isn't for everyone! I love working in silence, alone, deep in focus and never once found that in an office.
You can pick up multiple clients across industries and projects, bringing learnings from one directly to the other – every day is different.
There are, however, many cons. 20% of businesses fold within the first year. Not everyone is suited to the freelance lifestyle and it's important you consider the additional responsibilities and security you give up when you leave employment.
Cons of Freelancing:
You need to account for this in your rates and have a plan for cover if you want to take time off. I only managed to take 7 weekdays off in 2021 after my hired support bailed on me. Without a full team to cover, often you have to plan holidays around projects, make up the time elsewhere or just lose out on your income that week.
You're responsible for your own taxes and pension: 
If you're not clued up on NI, pension investments, VAT and keeping on top of your tax payments then you'll need to hire an accountant. Luckily I have a family of them who judge the amount I spend on Pret when travelling to clients.
Being your own business development: 
The top reason freelancers fail is their failure to self-promote. You could be the best designer in the whole damn world but if nobody knows, you'll never get any work in. Your personal brand is everything. If you're not willing to put yourself out there maybe it's not for you.
It can get super lonely working on your own without a team. You can build your own team of contractors, contract as part of a business or get a coworking space desk to combat this. Costly but worth it!
If you don't do the work, the only person that suffers is you. You're not paid for time sat at a desk like many employees. You'll likely be paid by output so if you have an unproductive day, you're doing long hours or weekends to make up for it.
Responsibility for your own training: 
Your growth is in your hands, no forced company CPD hours, you need to make time for your own learning and development. Business coaches, books and courses are essential if you want to stay on top of your game.
Inconsistent cash flow is one of the biggest drawbacks to going freelance in the UK. You won't get paid the same day every month if you have multiple clients on various packages and payment terms. Ensure you have enough savings should one contract end unexpectedly and that you could still support yourself and have multiple income streams.
Freelancing can be much harder than employment, there are many more hats you need to wear but if you can successfully market yourself and seize the right opportunities, being proactive with your business, it can be far more rewarding. Two thirds of freelancers think they made the right career move, as do I.
If you're taking the leap I highly recommend you read 'Survival Skills For Freelancers' by Sarah Townsend. She covers everything from pricing to taxes to outsourcing and imposter syndrome.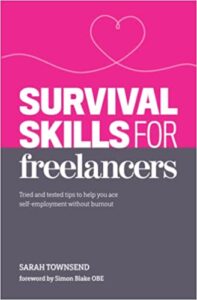 Do you have any questions on freelancing or working with freelancers? Get in touch!