Social Media Marketing Trends For 2022
Social media marketing changes fast and if you fail to keep up or diversify your content and the platforms you're using, your time and resource invested could be in vain.
Here are my top 6 trends I'll be utilising with all my clients this year based on personal experience, learnings from 2021 and market trend reports.
1. Personal branding
Personal accounts get far more reach than business accounts. Building the brand of your directors and business development team is going to be key to getting leads in if you're a service based business. If you're promoting B2C products, ambassadors and known faces will have a far bigger impact.
People want to buy from people – focus on what differentiates you. Have you got any accolades? Do you have a unique brand story to tell? A unique brand personality? Share it.
2. TikTok for business
If your company isn't on TikTok: you should be. We're still at the beginning of the TikTok revolution and any B2C or B2B brands targeting under 30s would benefit from starting to build their audience on there. TikTok, in particular, shot up the list on Hootsuits 2022 report to overtake WhatsApp and Pinterest. Jumping from 3% last year to 24% this year, TikTok saw a 700% increase in perceived effectiveness.
3. Video content
If you're not making reels or IGTV videos on Instagram, your reach will have fallen off a cliff. It is the absolute best way to extend your reach far beyond people that follow your account. They're super simple to make you just need to play around with the features.
Use trending sounds, keep it under 15 seconds and provide value!
Don't believe me?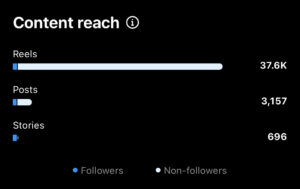 4. Paid advertising will become a necessity
According to Hootsuite's 2022 Social Media Trends survey, more than 40% of respondents indicated that the decline in organic reach and the need to spend more on paid advertising were their biggest challenges. Considering that the average organic reach for a Facebook post is just slightly over 5% according to Hootsuite's data, it makes sense why paid advertising will become a necessity. Facebook was also rated the most effective for marketing.
51% of marketers are expecting their paid social budget to increase. Only 10% of respondents said they don't run social ads at all—a huge drop from last year's 29%. The vast majority of those who don't run social ads in their organisations are from small businesses (75%).
5. More hires will be made in social
According to Hubspot, social media isn't just for brand awareness, either. It's also an effective tool for generating revenue. In fact, 79% of people say that user-generated content on social media significantly impacts their purchasing decisions.
Which is why you'll see more companies making dedicated social media hires in 2022, rather than tasking a busy marketing team with social media as a side project.
6. Snackable content is growing
Short-form, easily digestible content will be consumed far more readily than long-form content. When using social media our attention span is LOW, we're more likely to digest 7 clips that last 10 seconds than one long '20 trends' blog. I'm very sure my own TikTok will get ten times more views than this blog. Keep it short, keep it simple, have the value up from and an easy call to action. Your snappy clip will get so many more views than your 3 minute explainer video.
Have any questions or need a hand with your strategy? Get in touch on Fiona@fbcomms.co.uk or book your free 30 minute consultation here.